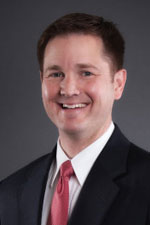 Dr. Brad Webb enjoys helping his patients overcome foot and ankle problems so they can lead an active, healthy lifestyle. He finds great satisfaction in treating all foot and ankle conditions. Dr. Webb specializes in treating foot and ankle deformities, wounds of the lower extremity, trauma, and foot pain through conservative and surgical methods.
Board Certified in foot surgery and rear foot and ankle reconstructive surgery.
Provider in St. George and Cedar City wound clinics for last 4 years. He favors using a multidisciplinary approach to treat lower extremity ulcerations.
Specialist in treating wounds of the foot, ankle, and lower extremity.
Specialist in correcting painful foot and ankle deformities such as bunions, hammertoes, and flatfeet.
Specialist in treating athletic injuries such as ankle sprains, tendonitis, plantar fasciitis.
Published original research on the correction of bunion deformity through external fixation in a peer reviewed journal.
Completed B.S. degree from the University of Utah in Exercise Physiology.
Received extensive training in foot and ankle surgery during three years of residency training in Milwaukee, WI. He worked closely in his training with podiatric and orthopedic surgeons.
Has been married to his sweetheart for 18 years and they have three daughters. He enjoys spending his free time with his family. He also enjoys leading an active lifestyle through the pursuits of cycling, hiking, camping, and snowboarding.