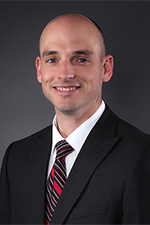 Dr. Peterson is the newest member of the Foot and Ankle Institute. He has received extensive training in reconstructive rearfoot, and foot and ankle surgery. He brings an enthusiasm for life and a desire to work alongside patients to alleviate all aspects of foot and ankle pain.
Dr. Peterson's premedical undergraduate training in chemistry and exercise science was accomplished at SUU, Snow College, and Utah State University. Dr. Peterson was part of the inaugural class at the Arizona College of Podiatric Medicine. He represented students on a local and national level, graduating with honors in the Pi Delta honor society. He received the Paul H. Rasmussen Award for Excellence and was chosen as the commencement speaker.
Dr. Peterson pursued surgical residency training in New York where he worked with the president of a national podiatric organization. Working in a Level II trauma center, Dr. Peterson had in-depth training with orthopedic surgeons, including fracture mangagement and joint replacement modalities. He also had training in vascular, plastic, and general surgery. Dr. Peterson received the "Good Hands" award while in training. He furthered his surgical training in Denver, CO with experience in reconstructive rearfoot procedures, diabetic patient management, and wound care. Dr. Peterson was selected for fellowship training in Dermatopathology with specific interest in skin cancers and cutaneous disease of the lower extremity.
Dr. Peterson has an interest in humanitarian service and has participated in a surgical mission to San Blas, Mexico for clubfoot reconstruction. He also spent three months on the Navajo reservation managing the late stage complications of diabetic charcot arthropathy.
Ryan is a native of southern Utah, growing up in the canyons and mountains of the beautiful national parks. He is married to a beautiful and supportive wife and has four wonderful children. In his free time he enjoys spending time with his family, all sporting activities and outdoor life, music and theater, and competing at the expert level in the Wasatch Trials Association for observed motorcycle trials.
Dr. Peterson is based in the Hurricane office and will split time in Mesquite, NV and looks forward to the challenge of working to alleviate your foot and ankle pain.