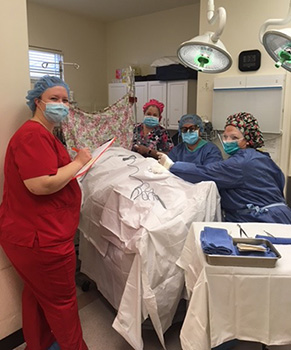 South Main Surgery Center has been in existence within the Foot & Ankle Institute for over 20 years. At South Main Surgery Center patients receive state of the art foot surgery from Board Certified foot surgeons using the latest techniques. Anesthesia is provided to ensure the comfort and safety of our patients. At the surgery center, elective outpatient procedures are performed in a safe, efficient, and inexpensive setting. Examples of foot surgeries performed at the center include bunion and hammertoe surgery, neuroma surgery, wound debridement, fracture repair, nerve decompression for painful neuropathy and surgical treatment of plantar fasciitis.
Appointments
If, for any reason, you cannot keep a scheduled appointment or will be delayed, please call as soon as possible. Charges may be incurred for appointments cancelled less than 24 hours before scheduled appointment time.

Insurance
Our office accepts a variety of HMOs, PPOs, and other health plans. Please call our office to verify acceptance of your insurance carrier.
South Main Surgery Center
754 S. Main St., Suite 3 & 4
Saint George, UT 84770

(800) 768-2671
Mon - Fri: 8 AM - 5 PM
Billing / Account Questions: (435) 628-2671 – ext. 1008
Email: This email address is being protected from spambots. You need JavaScript enabled to view it.