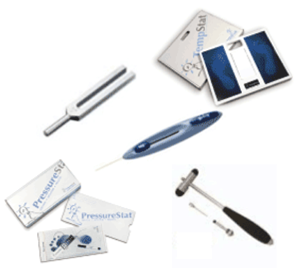 A CDFE is a comprehensive lower extremity physical examination combined with an educational and counseling session performed on people with diabetes. Should be performed at least annually—more often for higher risk patients.
Includes check of feet for signs of pressure or friction, calluses, nail problems, red spots, signs of infection, and condition of skin.
Additionally, non-invasive test to see if any feeling has been lost in the feet, status of circulation, and changes in the shape of the foot.
At the Foot & Ankle Institute, we perform the CDFE in order to prevent nerve damage, poor circulation, and trouble fighting infections. These are all risks for diabetic patients.
Come See Us
Comprehensive Diabetic Foot Exams also help qualify diabetic patients for the medicare diabetic shoe program. If you are interested in a CDFE please give us a call at (435) 628-2671 or email us at This email address is being protected from spambots. You need JavaScript enabled to view it..