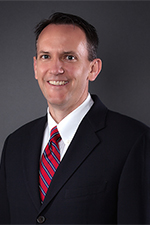 Dr. Powell is a board certified surgeon specializing in the treatment of foot and ankle pathology. He enjoys the challenge of diagnosing and treating foot and ankle injuries including sprains, fractures, and ruptures. He also specializes in the treatment of congenital and acquired conditions such as flat feet, heel pain, hammer toes, and bunions. He is trained to treat problems both surgically and non-surgically and is able to recommend multiple options for the best outcome. When deciding how to treat a problem there are many variables to consider and Dr Powell is sensitive to the needs of his patients.
Dr. Powell attended medical school at California College of Podiatric Medicine in San Francisco where he received the Earl G. Kaplan award for academic and clinical excellence and the Pierce B. Nelson award from his classmates for dedication and integrity. After medical school, Dr. Powell completed three years of foot and ankle surgical training at the University of Utah and Veterans Administration hospitals in Salt Lake City. In his third year in Salt Lake he served as the chief resident.
Staying current on the latest surgical techniques and advances in medicine are important to Dr. Powell. He attends surgical and medical seminars regularly and has taken advanced courses in ankle arthroscopy, advances in tendon repair and reconstructive foot surgery. The Foot and Ankle Institute provides cutting edge diagnostic and treatment equipment and facilities with in house MRI, digital x-ray, ultrasound, surgical center and digital orthotic scanning.
Dr. Powell was born and raised in Price, Utah where his parents were both educators. He is married and has three children. Dr. Powell received a Bachelors of Music degree in vocal performance from Brigham Young University.
Dr. Powell enjoys keeping his musical skills current. He has performed locally with The Southwest Chorale, Lieto Choir, and St. George Musical Theatre. Besides singing, Dr. Powell enjoys being with his family, playing basketball, hiking, and snow skiing.